To get information about new or updated contents search engines use web crawlers. The prime focus of these web crawlers to find and index content .
They get all the information about a website by going links to links internally, through alt tags, meta description tags, structure data and other elements present in the code of the site.
The ability of a web crawler is to make search engines enable to access and index pages on a website.
Crawlability :

Can be best described the search engine's ability to read contents and follow links on a webpage.

Indexability :

measures search engine's ability to analyze the content on your web page and add your website's pages to its index.
---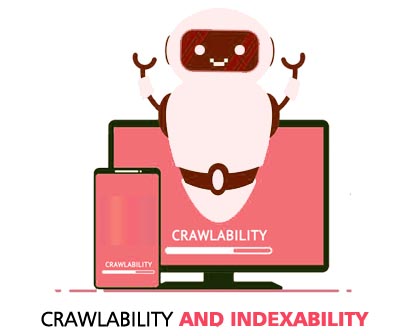 Factors Affecting Crawlability and Indexability
There are various factors affecting crawlability and indexability of any given websites:
The Structure of your Website
Internal linking structure
Outdated version or unsupported technology
Error codes
Broken page redirects
Server Errors
---
How to make a website easier for crawlers to access
Submit a site map to google
Strengthen Internal links with proper link structure
Maintain content freshness with Regular updates and add new content
Avoid duplicate contents copied from somewhere else
Speed up your page load time