Package tour booking website development - Your Package tour Website is your Best Booking Channel
As a fully focused travel portal development company we provide highly interactive package tour booking websites with complete dynamic packaging system. We understand the interest and mindset of travelers and develop industry specific package tour booking solution that can meet your travelers expectations.
What you need in your package tour booking website?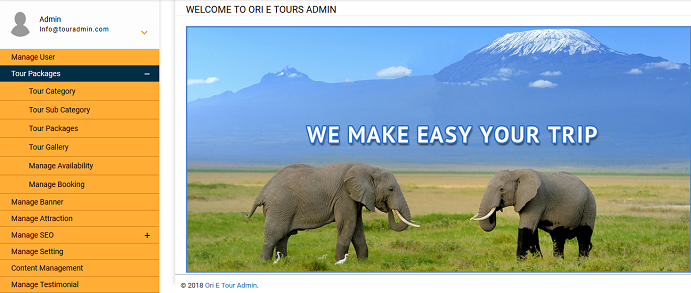 Dynamic tour packaging system
Customize and flexible interface
Online package tour booking engine
Easy and simple navigation
Responsive Design that can engage your customers
Online Availability Calender
Options to create package tours by theme, region and destinations
Easy contact
B2B and B2C booking option
Auto price calculation
Online payment option
Auto Invoicing system upon successful booking
What options would you like to have in package tour booking website?
Package Tour website development with Group Tours booking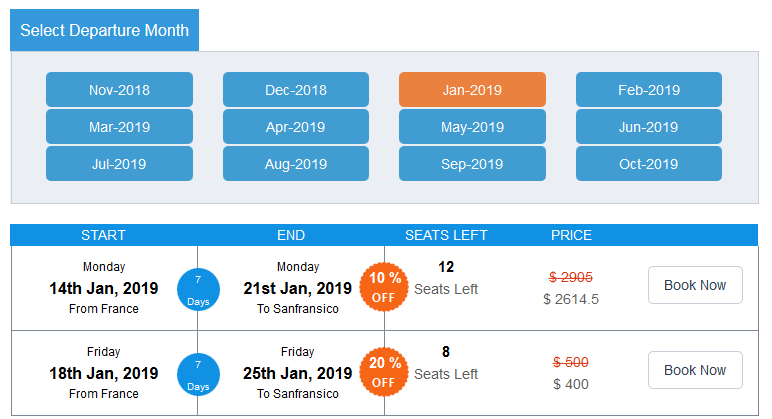 With this option you can create tours for group of visitors. These are predefined package tours with predefined months and dates. In these type of package tours visitors can book the tour as per the availability of seats.
Website Admin can Create Any number of package tours
Admin can define number of Visitors to be accommodated in a group
Define Month of visit
Admin can define duration of the tour
Define detailed Itinerary
Define package inclusions and exclusions
Define price per visitors
Display Availability of seats
Visitors can choose number of Adult, child and orphan
Allow visitors to send inquiry
Visitors can book online
Online payment option
Instant invoice sending option for all successful bookings.
Package tour booking website development with private tour booking option
With customize tour booking option admin can create any number of package tours and visitors can plan to avail those tours as per their suitable month, no of person, date and time.
Admin can Create any number of package tours
Admin can Define tour details
Define tour prices
Define package Overviews
Define detailed package Itinerary
Package Includes and excludes
Define Tour duration
Admin can Define cost per person by calender dates and months
Visitors can define their flexible month of visit, date of visit and time of visit.
Visitors can choose their departure airport
Visitors can pay online to confirm booking
Auto invoice generation upon successful booking

Package tour website with flight and accommodation booking

This is also a package tour booking website with only flights and accommodation booking. This package tour option doesn't include any other options except flights and accommodation booking option.
Admin can define various hotels as per different countries
Admin can define countries and departure airports accordingly
Visitors can search various hotels and accommodations
Admin can define package inclusions like flight, transfers, bed and breakfast
Define hotel prices
Define Rooms and accommodation details
Define meal plan and prices accordingly
Visitors can view flight overview
Visitors can book tours and pay online
Package tour booking website with all inclusive package tours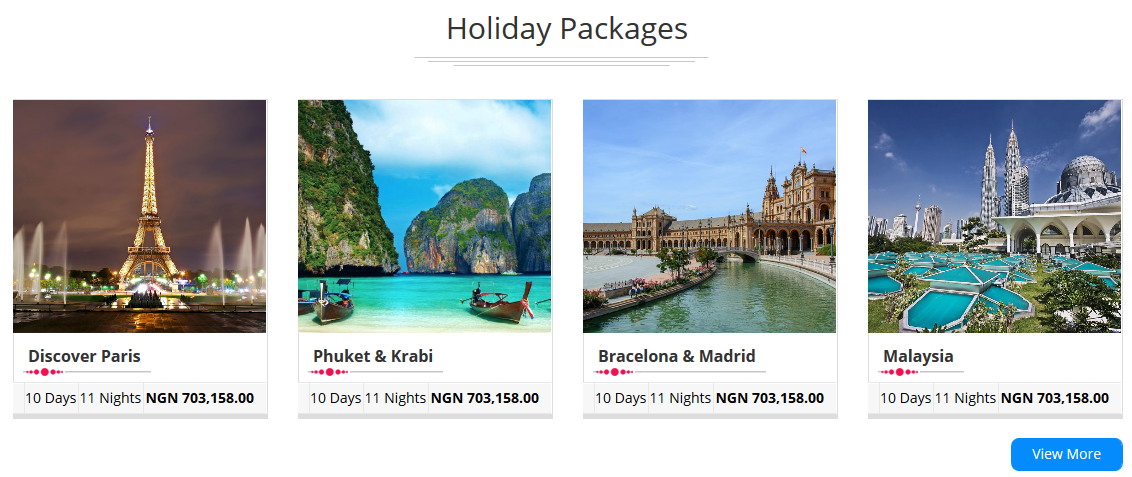 With all inclusive package tour booking website admin can define package tours inclusive of flights, transportation, accommodation and sightseeing.
Any number of all inclusive package tours can be created
Admin can define both inbound and outbound tours
Define flights details
Define transportation details
Define accommodation details
Define day wise Itinerary details
Admin can define tours by theme
Admin can define tour inclusions and exclusions.
Auto price calculation as per number of adult, child with bed, child without bed and orphan
Display prices with calender view
Visitors can search tours with online booking engine by country, city and theme
Visitors can choose tours and pay online to book tours of their choice.
Taxi Tour Packages Booking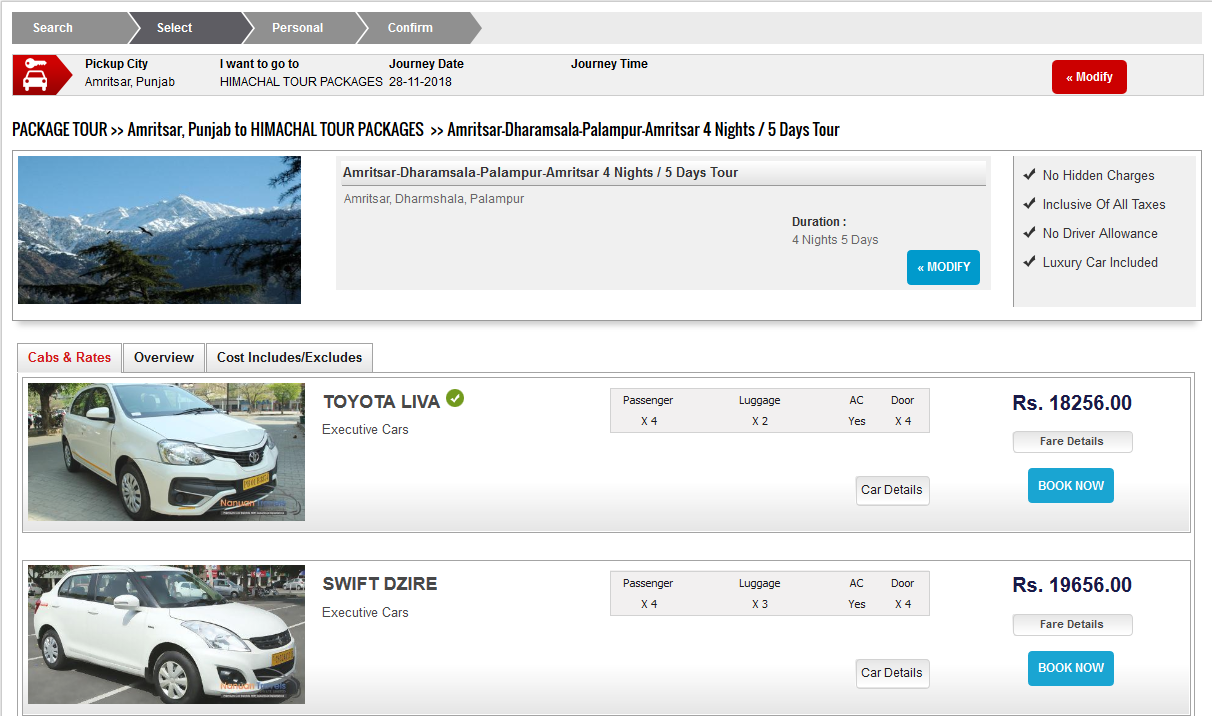 The taxi tour package is a type of package which is the combination of package tour and taxi. In this package tour option visitors choose both package tours and taxi..
Admin can define tour package name
Any number of package tours can be created
Define detail Itinerary about the tour
Define prices for package tours
Define Cars
Define prices of cars for taxi tour package
Visitors can search tours through booking Engine
Visitors can choose package tour and cars of their choice
Visitors can pay online
Upon successful booking visitors will receive instant invoice to their email
Our Package tour booking websites:
www.ecotourodisha.com
www.nanuantravels.com
www.babusafaris.com
www.absoluteafricatours.com
www.zanzibar-tours.co.tz
www.abot.travel
www.prisonislandzanzibar.com