Title, URL, & description to draw high CTR in the rankings (Organic click through rate)
Improve your organic click through rate Using descriptive URLs, Research long-tail keywords, Write effective meta descriptions and Implement structured data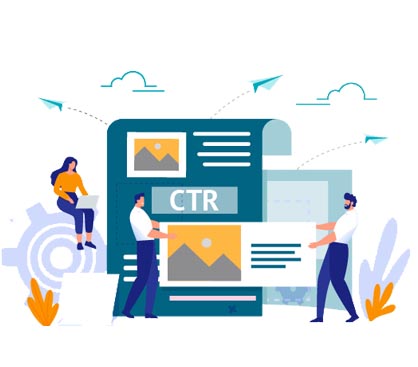 Why its important to increase your Organic CTR?
When you have high CTR means more traffic to your site and google will position your page higher in the rankings.
Focusing on improving your CTR can maximize traffic received, generate more sales and allow to plan your marketing budget more efficiently.
The more your pages get high CTR for a given position, the more likely your web page move up to prominent position in the SERPs.
Having an increased CTR can lead to step-in more users on your website and a better chance of getting more sales.
So finally there are two reasons why you should optimize your CTR for following reasons:
First, it likely improves organic rankings
Second, if more people click on your search result, you can generate more traffic
How to Calculate Organic CTR?
The click-through rate is the ratio between number of users who click on a link and the number of times the url appeared in searches (Impressions), multiplied by 100.
Organic CTR consists of following variables :
Total Number of Clicks
Total Number of Impressions (How often a URL appeared in searches results for a keyword)
The percentage of searchers clicking on this URL
Mathematically, CTR should be calculated using the following formula :
Organic CTR = (Clicks / Impressions) *100
Click Through Rate =
Total Number of Clicks
x 100
Total Number Of Impressions
or Instance if your website appears 1000 times in search results for a particular time period and gets clicked 100 times, your CTR is 10%. You can put the above formula to calculate your CTR.
How To Improve Organic CTR ? Checklist for high Click Through Rate.
Here are a few easy ways that you can boost your organic click-through rates for better business and brand popularity as mentioned below:
Identify Your Lowest Organic CTR Content to start with
Find and Fix Keyword Cannibalization
Get Creative With Your Titles and make it simple
Research long-tail keywords
Use Descriptive URLs for long-tail keyword Implementation
Create effective meta description
Implement structured data
Create Structure Content for Featured Snippets
Improve page load time
Mobile responsive design
Create posts with images
Create quality content