A Car Rental Website Should Have A Modern and User-Friendly Design.
A car rental website should have a modern, user-friendly design and clear and easy-to-use navigation. It should also have an SEO presence and be optimized for mobile devices. The site must include information about rates, insurance, and other services you offer, as well as an online booking system. Finally, it must contain a contact page with all essential contact information present.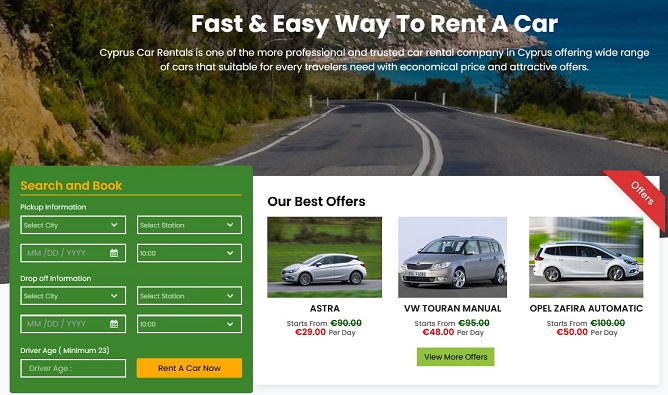 Build A Stunning Website for Your Car Rental Business That Everyone Will Love.
Creating a powerful car rental business website doesn't have to be daunting. With the right planning and tools, you can create a visually appealing and functional website. You'll need to choose a domain name and hosting provider for your website to get started.
Once you have these elements, you can start designing your website. Make sure it has a modern design that is easy to navigate and includes all the necessary information about your car rental Business. You'll also want to include features like online booking, payment processing, and customer reviews. Finally, don't forget to optimize your website for search engine visibility so that more potential customers can find it.
With some effort, you can create a powerful car rental business website to help you reach new customers and grow your Business. Car rental businesses must have an online presence in this modern digital era. A powerful website with key features that make the rental process convenient and easy for customers is necessary.
Therefore, here are some expert tips to help you create an effective and successful website for your car rental Business.
Create an Efficient Online Booking Platform for Your Car Rental Business.
A website with a user-friendly booking interface is critical for a car rental business, as it allows customers to quickly and easily create an account and make bookings. Making the registration form concise is paramount, enabling customers to book both in real time and advance. Ultimately, this will ensure that the car rental Business can delight its customers with an excellent booking experience.
It is clear that implementing a 24/7 car reservation system not only increases customer convenience but also enhances their overall experience and encourages repeat business. Such a system should feature a comprehensive list of available car types and corresponding fares, flexible dates, time, location picking options, members-only pricing plans, and special offers.
Make Your Website Mobile-Responsive and Enjoy an Enhanced User Experience
Currently, mobile is the way to go regarding web traffic and renting cars. In today's day and age, it's no longer an option to have a website that isn't compatible with mobile - it's a necessity.
Moreover, having a mobile app can take the convenience factor to the next level for customers.
All in all, if you own a car rental business, it's time to make sure your website is mobile-ready, and it wouldn't be a bad idea to invest in a mobile app too.
By making the website mobile-responsive, you can guarantee a convenient booking process from any device. Plus, a consistent viewing experience across all devices ensures customers have easy access to information and images, whether they use a laptop, desktop, smartphone, or tablet.
Overall, investing in mobile responsiveness offers an enhanced user experience that will boost your Business.
Quick, Convenient, Safe, And Secure Online Payment System
Integrating with highly secure payment gateways allows users to complete online payment transactions quickly, securely, and without disruption. To ensure the highest level of security possible, opting for the most reliable and cost-effective local payment gateway provider is essential. This is a highly recommended solution as it will help protect users from online fraud and reduce the risk of any potential data breaches.
With your car rental website, customers should have access to easy payment methods like credit/debit cards, net banking, mobile e-pay systems, and more to make the payment process convenient and satisfying. This will not only provide a better customer experience but also help to increase sales.
Make Your Car Rental Business More Efficient with A Localized Website
Attracting local customers is essential for the car rental Business. Local people often use rental car services because they are easy to access and convenient. Localizing your car rental website according to the area you serve can bring in more local customers, boosting your conversion rate.
As a result, having a localized website gives you an advantage over your competition due to your more thorough knowledge of local routes and a decrease in travel time.
There are a few things to keep in mind when localizing your car rental website:
-- For example, you'll want to use the language spoken by Ordinary people. This means using terms that are common in the area rather than using more general terms.
-- It's also important to use the correct currency. For example, if you're targeting customers in the United States, you'll want to use US dollars.
-- Finally, you'll want to ensure that your website is accessible from your target country. This means you'll need to use a top-level domain specific to that country.
Following these tips can effectively localize your car rental website and bring in more Business.
Car Rental Businesses Can Massively Benefit from A Multi-Lingual Website
A car rental business needs to have a multi-lingual website to reach a wide range of domestic and international customers. Such a website can act as a powerful tool for drawing in more customers and helping to boost Business. Therefore, activating multiple languages and a content translation feature is highly recommended.
Other benefits of a multi-lingual website for a car rental business include the following:
Increased SEO traffic - Businesses can rank for various keywords in different languages by catering to a wider audience.
The ability to capture new markets - Businesses can expand their reach by targeting consumers in other countries.
Improved customer satisfaction - Customers are more likely to be satisfied when communicating with businesses in their language.
A Competitive Advantage - By offering a multi-lingual website, businesses can differentiate themselves from their competitors.
Car Rental Website – Building A User-Friendly Navigation
Creating a user-friendly navigation system is essential when constructing a car rental website, as it significantly improves the user experience. Everything should be placed in an intuitive and easy-to-follow layout, with navigation buttons and links accessible from all parts of the website. This will enable customers to access the information they need quickly and efficiently.
A well-organized navigation system can make all the difference. Having a clear and concise call to action on each page is also important. The CTA should be easy to find and understand and preferably the same on all pages. This will help guide users towards taking the desired action, whether it is booking, signing up for a newsletter, or downloading a whitepaper.
Creating an effective navigation system is key to designing a successful website, as it can make a big difference in the user experience. Navigation should be clear and easy to follow, with buttons and links accessible from all parts of the website. This will enable customers to find the information they need quickly and efficiently.
Integration with Social Media Platforms
Integrating the website with social media platforms, such as Facebook, LinkedIn, Twitter, Instagram, and car rental website development, can be extremely beneficial for customers and the Business. This integration will allow customers to quickly and easily share their experiences with friends and family and post their thoughts on different platforms.
Furthermore, this integration can make it even simpler for customers to rent a car, as they will be able to do so directly from their Facebook or car rental website development accounts, bypassing the need for a lengthy registration process.
Furthermore, businesses will be able to use social media platforms to increase their brand awareness and connect with potential customers. Utilizing these platforms will allow businesses to take advantage of word-of-mouth marketing and improve their reach.
In conclusion, integrating the website with social media platforms can be highly beneficial for both customers and businesses. By utilizing these platforms, businesses can improve their brand awareness, connect with potential customers, and take advantage of word-of-mouth marketing. For customers, the integration will make it easier to share their experiences and rent a car.
A Car Rental Website Must Have A Real-Time Vehicle Tracking Feature.
It is recommended that the car rental website should have a vehicle tracking feature that is able to provide real-time insights into the location and usage of their cars.
The tracking feature would help to safeguard cars against theft, as well as enable quick discovery of lost cars. Furthermore, it would be immensely useful for keeping track of the real-time inventory of cars, which would then be reflected accurately on the bookings calendar.
Integration with Website Analytics Tool
With website analytics tools, such as Google Analytics, you can get a good understanding of how your website is performing in terms of volume and sources of traffic, session duration, bounce rate, etc.
In order to take effective action for improvement, these analytical insights are used in order to identify specific areas of the website that require improvement. There are a few key areas that you should focus on when using web analytics to improve your website.
1. User Engagement
One of the most important things to look at when using web analytics is user engagement. This metric tells you how well your website is engaging users and keeping their attention. There are a few things you can do to improve user engagement on your website, such as:
- Make sure your content is interesting and useful
- Use visuals to break up text and make your site more visually appealing
- Add social media sharing buttons to make it easy for users to share your content
- Use calls to action to encourage users to take desired actions
2. Traffic Sources
Another important thing to look at when using web analytics is traffic sources. This metric tells you where your website traffic is coming from. There are a few things you can do to improve traffic sources to your website, such as:
- Use keyword-rich titles and descriptions to improve your website's search engine optimization
- Promote your website on social media
- Use paid advertising to drive traffic to your website
3. Conversion Rate
The last key metric to look at when using
User Reviews
As a professional marketing strategy, providing evidence of user reviews on rental car business websites has been found to be beneficial in increasing conversion rates. People tend to carefully evaluate the reliability and trustworthiness of car rental providers when planning to rent a car for an extended period, and user feedback helps to instill trust and confidence in potential customers. Therefore, displaying genuine user reviews can be a powerful marketing tool for driving business growth.
There are various ways that businesses can go about gathering user reviews. One common method is to offer discounts or coupons in exchange for a review. This can be an effective way to incentivize customers to leave feedback, but it can also result in fewer honest reviews.
Another method is to simply ask customers to leave a review after their rental experience. This is generally considered to be the most effective way to gather reliable feedback, as customers are more likely, to be honest when they are not being offered any incentive.
The most important thing for businesses to keep in mind is that user reviews should be displayed prominently on their website. Potential customers should be able to easily find them, as this will help to build trust and confidence in the rental car provider.
Conclusion
In order to maximize online sales and customer satisfaction, car rental businesses should dedicate significant resources to designing a website that is user-friendly, adaptable, and able to integrate with third-party tools and software.
This will allow for online booking, real-time tracking, and mobile app access for customers. Have these insights been helpful in better understanding how to craft a powerful car rental website.