What is GDS?
GDS is an online system known as global distribution system, which has been bridging the gap worldwide between tour operators and travel bookers by providing centralized services by covering the bookings of airlines tickets, car rental, hotel rooms and more.
It delivers world wide data, rates, inventory, offers, real-time availability of airlines, hotel rooms, car rental, bus tickets and many more to make the travel industry more informatics and sophisticated.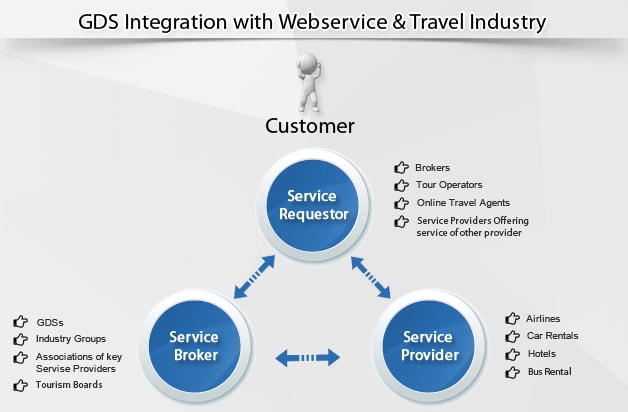 Global distribution systems are widely responsible for the growth of travel industry and stepping stone of most internet based travel services.
Popular GDS Systems in Travel Industry
GDS Networks helps the travel companies, agents and their customers to access the travel data by comparing rates, reservation options, access scheduling and inventories (hotels, airlines, car rental, holidays, bus tickets, railway tickets ) along with options of allowing the customers to book tickets online. There are 4 major GDS Systems heading the travel industry as follows: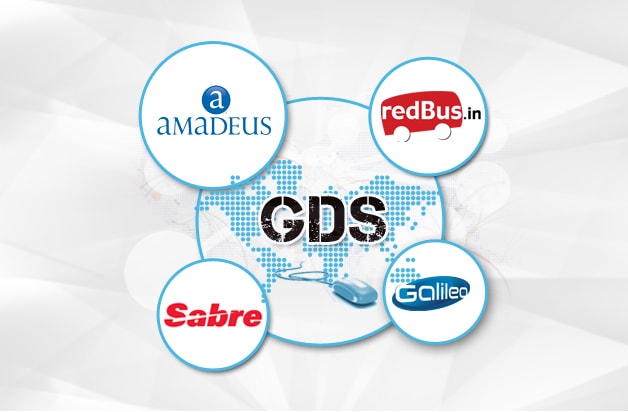 Name of GDS

Founded in

Founded by

Strong base regions

Amadeus

1987

Iberia, Air France, SAS and Lufthansa,

Strongly based in Europe, Mid East, North Africa & Asia Pacific

Galileo

1993

Galileo was Founded by a combination of 11 most significant North American and European airlines conducted by United Airlines. Currently owned

by Cendant Corporation

It has a strong web-presence in US and Western Europe.

Sabre

1976

Initially it was founded by American Airlines. Currently Sabre is a separate entity owned by AMR corporation

very strong Global presence in US and Asia Pacific

Worldspan

1990

Worldspan was founded by Delta, TWA, and North West Airlines. Further it was being sold to Transaction Processing Corporation.

Mainly in the US and Europe
Why Travel Agents/tour operators and travel management companies should use GDS
GDS is a computerized web service that provides pricing, real time availability, centralized data display with reservation functionality to the global travel industry in a very unified process. The four main GDS providers in the travel industry are Amadeus, Sabre, Galilio and Worldspan helping travel agents growing volume of travel transactions.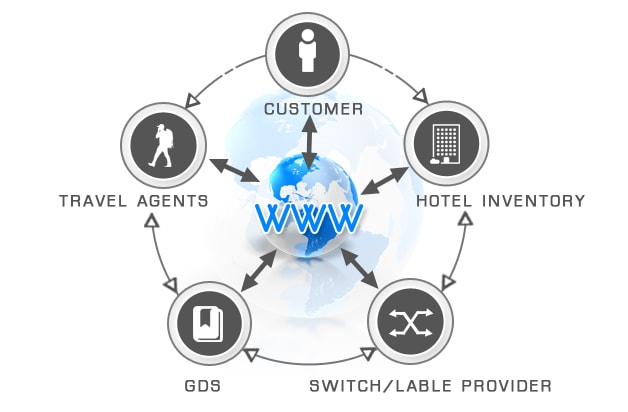 it was revealed that the GDS is and will remain as the most important channel of distribution for airlines, hotels and car rental companies alike. However, Internet also allows the GDS companies, label providers and even the traditional travel agents to host websites directly which access to their connections and provide the services previously offered by offline travel agents.
Please find few of the benefits of Global distribution systems:
The Use of Global distribution system shows a rise across corporate and leisure travelers
GDS is highly effective in alluring the international travelers. This is the reason why using of GDS among the travel agents is growing exponentially every year.
OTAs have greatly improved the travel shopping experience and convenience for consumers and have increased pricing transparency.
GDSs enable the retail travel agency and OTA business models.
The GDSs enable the travel agents to make their travel services available to consumers globally where they might not otherwise be able to achieve efficient worldwide market penetration through direct marketing efforts.
Booking through Global distribution system is most preferable for corporate travel agents as a suitable reservation process for holidays, air, hotel and rental cars.
Travel agents can get global platform for their business with strong market penetration
Global distribution system is the base to enter into corporate clients across the world
GDS is the ability to update the status of inventory in real time. Due to its real-time status update capability managers can view rates change and can easily alter price points or make special offers. Agents can view all the changes instantly and will be able to suggest the new updates and offers to clients without any interruption to make the deal..
Its a wise decision to invest in a GDS. The system places your holiday booking services and inventories in front of huge clients without affecting your marketing budget.
The unique selling point of GDS is that it Can provide best rates to your guests, which no other systems can provide. Your gusts can find packages that include a hotel stay, air travel and car rental
Booking Trends - the up-growing impact of GDS
The Hotel Industry is expected to grow rapidly to reach a very high record growth in 2015 despite of economy slow down.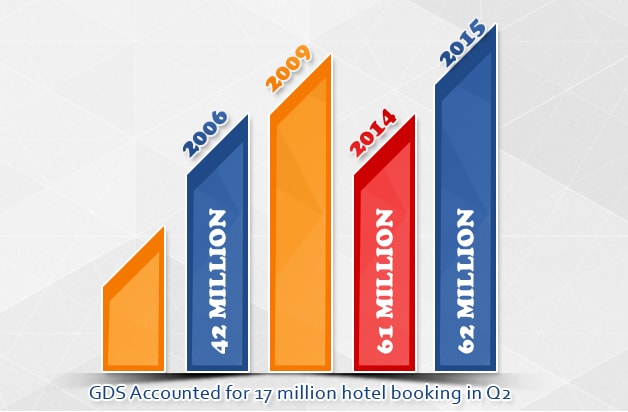 According to recent global data released by travelclicks, 2015 is going to be a successful year for travel agents using global distribution systems for bookings. According to Travel-Click research the bookings through GDS is projected to 62 Million, which was 61 million in 2014 and 42 million in 2009.
According to the travel-click research data there was a total revenue generation of $12 billion in the second quarter in the top 50 global markets. Among those bookings GDS integration covered 16.3%.
Now days if you don't have a mobile optimized website then it can be regarded as you don't have a website. Having a mobile optimized tours and travel prortal is the most efficient way to find both local and international hotels, airlines, holidays and car rentals on short notice.
Its a big change in consumer behavior to switch over to mobile. Shifting to mobile search is already being started and reflects of changes can be apparently measured.
Future of GDS
For Years, GDS has been serving the travel industry with reliability, security, speed and accuracy to airlines, hospitality, car rentals, bus tickets and many more. As per IATA study the future of GDS is very huge and it will create robust ecommerce platform for travel industry. If GDSs keeps continuing the ever changing needs of airlines and hotel industry then it will rule the travel industry