Due to the technological advancement and digital trends, the online hospitality and travel industry has been undergoing an extensive transformation. Innovation in travel technology has been enabled innovative services for visitors by providing consistent, comfortable and 24/7 connected experience with optimum level of client satisfaction.
The hotel industry is booming and growing with exponential rate with growing number of online hotels. More number of consumers are now days passionate to book hotels online from their comfort zone from any part of the globe.
Online Hotels booking is a prime consumer trend now days - A new competitive Environment

Technology drives new opportunities and everyday changing technology has been created new competitive environment in hospitality and travel industry. This is the reason why the business travel is so hassle-free and digital trend is making tourists & business travelers more informed with comfortable business as well as holiday trips.
A new competitive environment has be created due to the rapid technological enhancements and healthy growth of online travel sales.

Online hotel sales in Western Europe reach 26% of the market
There is a faster hotel sales growth in Western Europe, moving with online airlines booking.
In 2013 Western Europe hotel sales accounted for US$36 billion, 26% of total hotel sales
This growth estimated to have a growth of US$60 billion by 2017, which is 40% of total hotel sales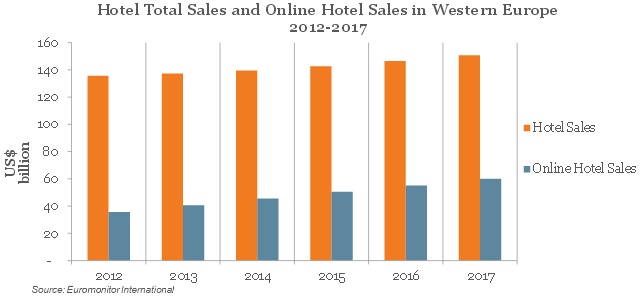 Strong growth for online hotel sales in Eastern Europe
Due to low penetration, online hotel booking growth is very strong in Eastern Europe
Accounted to US$2.2 billion in 2013, 17% of total hotel sales
The online hotel sales is expected to be more than double to US$4.8 billion by 2017, which is 24% of total hotel sales
OTAS are concentrating on international market especially Europe and Asia pacific
With a lower online penetration, European market is providing a strong growth opportunity for OTAS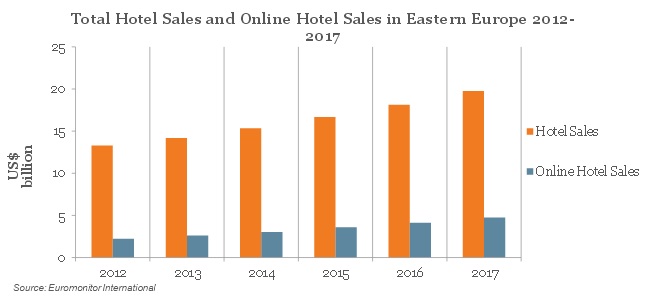 Online Resources used when planning a Holiday Influential resources when booking a holiday



| | | | |
| --- | --- | --- | --- |
| Online Resources used when planning a Holiday | Value in % | Most influential resources when booking a holiday | Value in % |
| Review websites | 42% | Review website and online forums etc | 59% |
| Direct from travel company websites | 31% | Travel operators websites | 39% |
| Internet only travel agencies | 21% | Recommendations from friends and families | 31% |
| The website of a high street travel agent | 18% | Travel agents websites | 25% |
| Deals based websites | 15% | News papers, magazines, articles and advertising | 21% |
| Travel guide websites | 13% | Visit to a travel agents shop | 12% |
| Price comparison websites | 12% | Visit to a tour operators shop | 8% |
| None of the above | 7% | Content on social media | 5% |
| Don't know/not applicable | 9% | None of the above | 4% |
| | | Don't know/not applicable | 2% |
Holistic approach is a must
Travel companies, tour operators and travel agents need to adopt a holistic approach
For Holistic approach hoteliers should understand the need of customers
Hotels should adopt test and learn approach to identify the need of customers to strengthen their commercial capabilities
Need to follow customers throughout all of the steps in the booking funnel. Hoteliers should give enormous support to customers from giving information to choosing and booking hotels online
The adoption of Holistic approach should be like that the customers should be inspired, engaged and enormous assistance to be provided
In each and every step of booking process the customer should be assisted, which will lead customers to bookers with great care.
If not, they will face threats from companies active at other stages of the funnel


The State of Mobile Booking Trends - The dramatic shift towards mobile

The Dramatic shift to mobile booking in travel industry is leading to greater engagement and continue to show its strength for hotel brands. Increasing number of consumers are proffering to book their holidays by using their smart phones and especially the hotel industry is generating more business through mobile bookings.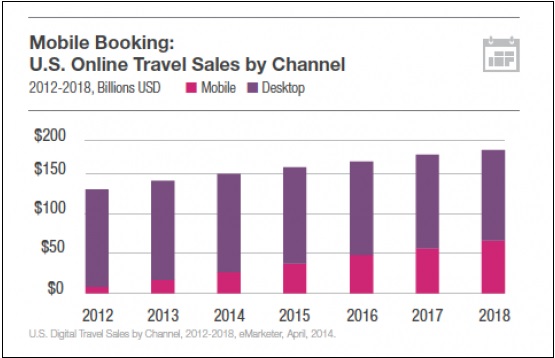 According to the travel and tour world news it is observed that the online booking sector of China is greatly driven by mobile. According to Phocuswright's from Travel research consultancy it was analyzed in the 8th edition of its China Online Travel Overview notes that in 2014, the mobile hotel booking upgraded by 57% and In 2013 it was 44%.
Due to the rise of mobile device use there is a huge behavioral change in travel industry
As per eMarketer the mobile booking through tablets and smart phones in 2014 was 25%, which will be expected to be 30% in 2016
Growth in the travel industry is greatly influenced by the increasing use of mobile devices.
Hoteliers should take necessary steps to get connected with their customers through mobile devices
Rising demand for real-time services
Always connected consumers expect to receive real-time services from travel companies
Companies need to provide personalized alerts and information
Customer service needs to be available 24/7 and easy to access via mobile devices
Travel companies should be very interactive online. Online travel website should be very effective and interactive by nature to give real-time service to customers
With online and interactive booking approach of hotels and travel companies will help customers to book travel services from anywhere and from any point of time.
customers should be able to book holidays from any mobile devices and screen resolutions.



Engaging customers through social media - The decision making process
Consumers are having more opportunities to share their experience and influence others through social media sites.
Photos and comments shared on social media are effective sources of inspiration for travel
Social media is a great tool to engage customers and gain loyalty over the long term...
but less effective in generating bookings in the short term
Review sites are most popular for travelers when researching their holiday, which has been influencing the travelers decision.
When planning a holiday, the holiday makers search for feed-backs and comments of other people about the tour companies and travel agents.